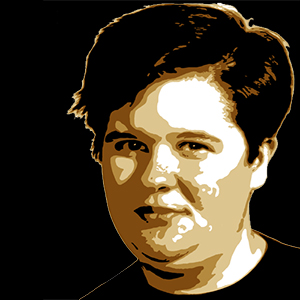 As I said on my homepage, my name is Pamela Wright but online I go under Nyxks or even Nyx Wolfwalker (depends on how old the online account is) on some parts of the net I'm known as Nyx Cole, its uncommon that I use my given name mostly because I've developed myself under my handle and its easy enough to find me around the web with that handle in general.
I consider myself to be a Graphic and Web Designer who also dabbles in Photography from time to time. I've been into Graphic Design since around 1985 thanks to my dad who got me into it as a side to helping him with his home business as a side of this I also was doing early stage Digital Desktop Publishing, which I later did go to college and through night school got my Digital Desktop Publishing certificate.
I've been into Web Design since mid high school so early to mid 1990s which mean yes I did start off with pure hand coding of sites and only as time passed did I move on to using a WYSIWYG Editor such as Claris HomePage (which was my first such editor) and then Adobe GoLive (my second WYSIWYG editor) and finally onto Adobe Dreamweaver (after the CS6 update, though yes in college I did use it to degrees), of late a lot of the sites I've worked on have been based through WordPress, so have gotten to various degrees back into basic HTML hand coding on an as needed basis.
Photography is something that I got into at a young age thanks to my dad being a professional photographer, he got me my first camera at a young age and I've pretty much just gone on from there as time has passed, though its only in recent years that I've gotten into it myself on a professional level.
I've done a lot of personal learning when it comes to what I know of Graphic and Web Design, yes I have taken courses and have various certificates and even a diploma in the fields but truth of the matter is I'm still learning and will forever be doing so as the landscape changes, forcing one to keep up or leave the field. I enjoy learning new things when it comes to graphic design though to me some things that are classic never really go out of style. Web wise I might not be as into the social media side of thing as those who are younger than me or even older or my own generation but I am like everyone learning as I go and making the most out of the areas that I am active within and putting those skill sets to the best use that I am able to do so.
I am looking for full-time employment with benefits when all is said and done, but because of the industry that I've chosen I know that contract and "freelance" style employment are the norm in many cases thus I have no problem working on a contract or freelance basis over full time (but lets face it almost everyone would like full-time employment in this day and age). I don't have an issue relocating anywhere within Ontario for full-time employment, contract employment and freelance well since the  pandemic has shown remote work is a option in many cases I would prefer to work remotely as possible to do so, but occasional travel is possible (within a reasonable distance, unless willing to put me up in a hotel for the night).
I do have the full CS6 Web and Design Suit to work with and I am running a Mac Pro with 24GB of RAM and 1TB HD and I use a Wacom Intros tablet.
Overview…
Full-Time Employment, but willing to do contract and freelance
Willing to work anywhere within Ontario (remote preferred), at this time I'm not willing to relocate to another province.
44k to 60k a year with full benefits or my standard freelance fee of 25.00 to 55.00 an hour, contact based fee varies depending on what the contract is for (occasional access to update site vs. 5 days a week 9 to 5 for X months, etc)
Work in Graphic Design, Web Design, Desktop Publishing, Teaching/Instructing, etc.
Graphic Design field experience 15+ years.

Using Photoshop, Illustrator, InDesign, with some AutoCAD experiance

Web Design field experience 10+ years.

Using GoLive, Dreamweaver, HTML, WordPress and Flash

Desktop Publishing field experience 3+ years
Personal Equipment – CS6 Web and Design Suit, Mac Pro G5 with 24GB RAM and 1TB HD, a Wacom Intros Tablet, a basic Windows Laptop running Windows 11 and a host of other items.